Seasonal Vegetables and Recipe
We are lucky in Portland, OR to be able to buy seasonal vegetables, fruit, fish and other food from our local farmers all year round. Even in the Fall and Winter, Saturdays and Sundays (and some other days) we can go to different farmers' markets and find out what is growing in our Northwest climate, and purchase it all locally.
I have a lot of respect for all these farmers who work so hard all season to provide us with organic produce.  Farming is not easy, not everyone wants to do it because it is such hard work. Plus, they have to drive long distances, come early in the morning to set up and have the market ready in the damp cold mornings.
Last Sunday, we were at the Hillsdale market, and we met the five-day old baby goat "Robert."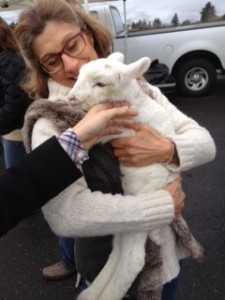 He was adorable and so friendly. He was born at a farm outside Portland. He was so slow to come out, stand up,  and take his first walk that his mother thought he was not going to survive and refused to nurse him.  The farmer's daughter took him, washed him, and fed him his first bottle.  Everyone at the market fell in love with Robert. We were petting him, holding him, kids were playing with him. He went along with it all.  People gave him so much care and love, and he returned it back so graciously and happily.
This time of the year, there are fewer vegetables at the market, but we are lucky to have three types of hardy winter vegetables:
– Leafy greens like many kinds of kale, collard greens, parsley, leeks, brussel sprout greens that look like collards but are smaller and more rounded forms and different tastes.
– Root vegetables like parsnips, daikon, carrots and their green tops are so yummy and long stems with a little pungent taste and smell to it.
Also at this time of the year, we can get Dungeness crab. It is a short season. There are several varieties of fish as well, fresh and not frozen – how wonderful.
It is not bad at all for a winter season, plus we buy produce that has not been radiated. We just pick our vegetables and fruit, they get weighed, we pay and put them in our baskets – I like this old way of shopping.
I prepared a simple RISOTTO CRAB PARSNIP KALE recipe for dinner with leftover sweet rice. I  sauteed in sesame oil 1/2 onion chopped, 1 small sliced parsnip for few minutes, added the rice and mixed it altogether. Then I added sea salt, pepper and an organic vegetable cube (optional), some water and covered it to cook for 15 minutes. Towards the end, I mixed in the crab meat and stirred for a few minutes. Then I served it with boiled kale mixed in and chopped fresh raw parsley. It was delicious and easy to prepare.