Hot and Sour Salmon Noodle Soup
Warming  Hot and Sour Salmon Noodle Soup
(2 servings)
Boil Water to cook 1 package of fine soba noodles by following instructions on the
package. When ready, drain and keep warm.
INGREDIENTS AND 4 EASY STEPS TO PREPARE THE SOUP: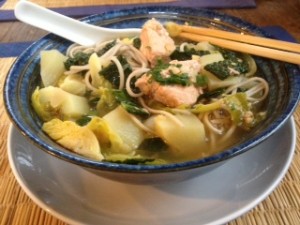 1 Tbsp Hot sesame oil and 1 Tbsp regular sesame oil
3 cloves of garlic (1 Tbsp) finely chopped
1 Tbsp finely chopped ginger
6 small pieces (1" size) of Salmon sautéd for a few minutes.
Step 1 – Heat oil on low flame, quickly add the garlic and ginger and sauté 1 minute. Then add the salmon and cook till it changes color (just few minutes).
6 small brussel sprouts rinsed and cut in quarters
½ cup chopped sweet potatoes bite size (optional)
Pinch of sea salt
Step 2 – Add the brussel sprouts and sweet potatoes and sauté a few minutes with the sea salt. You can add water if they start to brown.
2 Tbsp chopped scallions
1 cup chopped flat kale
2 Tbsp chopped Spring nettle if in season, please handle with gloves to rinse and chop
1 Tbsp fish sauce
2 Tbsp soy sauce
3 Tbsp sauerkraut juice
3 – When potatoes are almost done (make sure they don't overcook), add the above 5 ingredients. Let the mixture cook for 3 minutes. You want the greens to keep their sharp green color.
4 – Serve the soup on top of the boiled noodles garnished with chopped cilantro and a squeeze of lime.
Enjoy this delicious one pot meal (protein, vegetables and good quality carbohydrate) any time of the year, especially in the Spring on a cool rainy day. Nettle is only available in the Spring. I used all the vegetables from our superb farmers market here in beautiful Portland, Oregon.
Liver is a Spring Organ. It is the best time to detox and cleanse this vital organ. After eating heavier kind of foods and cooking to keep us warm and nourished in the winter, it is a good idea in the Spring to eat lighter foods, with shorter cooking times and fewer baked meals to help our Liver blossom and energize just like nature is waking up from hibernation and blossoming with foliage, colorful flowers and trees. Also, green is the Spring/liver color. I start wearing more green colors in March/April, and happy cheerful brighter colors. Liver likes sour tastes like grated green apples, sauerkraut, lemon, etc…Let's not forget gardening, dancing, laughing and exercising to bring our bodies more to life after winter hibernation, although I have to admit this winter I did quite a bit of snowshoeing on Mount Hood in the sun and the fresh, clean mountain air. My body was so happy to get all this Vitamin D and did not get any colds or flu. Something to remember next winter…
Experiment with these ideas and see how your body feels in the Spring.
Bon appétit and Happy Spring.