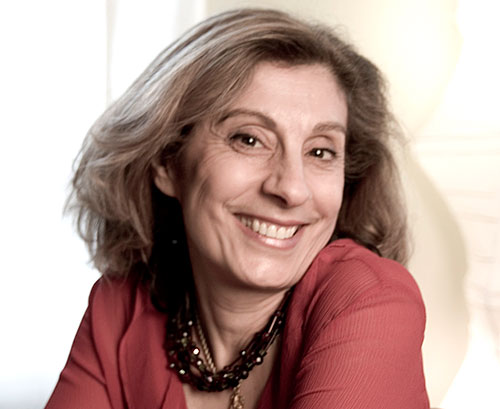 My name is Margo Massoud Marver. I was born in the outskirts of the capital of Lebanon, Beirut. I had a very happy childhood in boarding schools and at home with my parents, my five siblings and many cousins until the Lebanese Civil War commenced in 1975. It started two weeks before I finished my Interior Design degree. I remember going to school to get ready for my graduation with no fear about the bombs or barricades because they didn't yet exist.
By the time I successfully passed exams for my degree and became a very ambitious Interior Designer, the war started warming up. Still, I managed to find work, started using my expertise, and became busier and busier. Stress started mingling into my life. I was trying to juggle work, personal life, tennis, yoga classes, eating on the road, etc. When we're young, we think we are unbeatable and that we can fit activities into every minute of our life. I was a young person full of life and ambitious, with all sorts of big dreams and plans for the future.
It took a few years of this intense life before all of the above took a major toll on my body. I started having pain and discomfort here and there. My asthma attacks started resurfacing again, as well as my eczema. The stress, missing meals or eating the wrong foods all contributed in developing a pain in my right side. After having an ultrasound, it was decided that I needed surgery. The doctors had discovered that I had developed an ovarian cyst.
I was fortunate to meet a Macrobiotic Counselor during a dinner with some friends. She asked me to follow her diet for a few weeks, taught me how to prepare special foods, healing teas, remedies and ginger compresses for my condition. She also gave me Barefoot Shiatsu treatments every week. She helped me change my hectic lifestyle – eating on time and more whole foods. I had forgotten the importance of having three square meals a day, consuming freshly cooked food instead of cold and canned food.
Applying all of this advice got my life back on track. It helped me slow down my hectic and loaded schedule, and I started feeling better. I had more energy, and was pain free. My coughing and eczema got better. I was feeling happier and less stressed out. After taking another ultrasound, I was told that I did not need surgery.  This whole process of new changes and reeducating myself to living a more natural lifestyle took two whole months. After this whole natural experience, this is what I learned and continued to apply into my daily life.
Shiatsu and Reflexology
I was introduced to Zen Shiatsu in Lebanon in 1979. At the time, I was suffering from several health problems. A dear friend of mine was a Shiatsu practitioner who taught me the benefits of Shiatsu treatments. I went on to study Shiatsu in Massachusetts and at the Shiatsu College of London.
After suffering a back injury, I also became interested in Reflexology. I had tried several Chinese medicine techniques and acupuncture treatments, none of which seemed to helped. However, after only a few Reflexology sessions, I was back on my feet.
Since all the Acupuncture meridians either end or start in the feet, Shiatsu and Reflexology are deeply nourishing, strengthening, and beneficial to our body physically, and emotionally.
As I do Shiatsu using the Chinese meridians and the Masunaga Japanese meridians, I combine my Reflexology knowledge and work with the benefits of the Acupressure points.
Try it to help with pain as a preventive method for stronger well-being and health.
Margo Marver
Wellness Studio